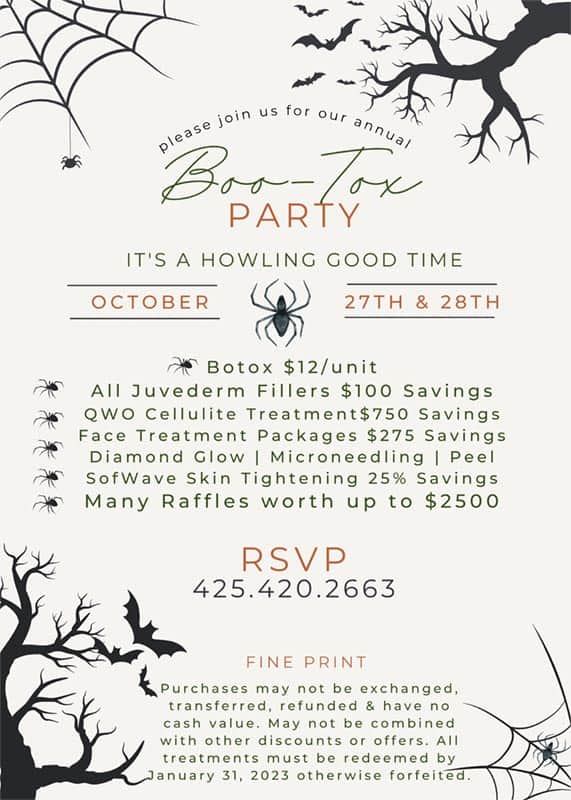 Enjoy the best prices of the year for two days only!
If you can't make it in person, you can book a time for us to call you and lock in the same deals! All specials are bankable.
This year's treats include…
1. Botox: $12 per unit, minimum 60 units, all units to be injected at one visit
2. Fillers: $100 off each syringe, all syringes to be injected at one visit
3. Qwo cellulite treatment: 3 treatment package for $2,250 ($750 savings)
4. Facial Treatment Package: One Diamond Glow Facial, one SkinPen microneedling facial, one ZO 3-Step Peel plus one FREE ZO Limited Collection Micro Facial Program (while supplies last) for $999 ($266 savings)
5. Sofwave: 25% off all treatments
Everyone who purchases in person will receive one free ZO Skin Health product while supplies last. Every one who attends the event in person as well as every $500 spent will be entered into a drawing to win one of:
1. Elta MD skin care products
2. Revision skin care products
3. ZO Anti-Aging Kit
4. SkinPen microneedling to the face/neck/chest
5. 1 PRP treatment (must purchase SkinPen microneedling to use)
6. One Sofwave treatment to the face
7. One Sofwave treatment to the face
Terms and Conditions: Purchases may not be exchanged, transferred, refunded and have no cash value. May not be combined with other discounts or offers. All rewards may be used where appropriate. All treatments must be redeemed by January 31, 2023 or they will be forfeited.
Call our office to make your reservation at 425-420-2663 now – space is limited!
Or if you can't make it to our office, you can call our office on 10/27 or 10/28 to take advantage of these deals. Want us to call you? Make a virtual appointment below:
Dr. Bryan C. McIntosh is a Board Certified Plastic Surgeon with over 10 years of experience. Patients from all over Bellevue, Seattle, Redmond, Kirkland, as far east as Yakima, north to Bellingham, and down to Tacoma have been treated by Dr. McIntosh. In his Bellevue office you'll also meet the perfect team of hand-picked aesthetic professionals who truly care about you, and want to ensure you have the best experience possible.
The #1 regret of most plastic surgery patients is that they didn't take action sooner, but we understand it can be a big life decision. Our consultations are complimentary with no obligation. Contact us today to schedule yours.