Finding a Plastic Surgeon in Seattle
[et_pb_section fb_built="1″ admin_label="section" _builder_version="3.0.47″ custom_padding="0|0px|0|0px|false|false"][et_pb_row admin_label="row" _builder_version="3.0.48″ background_size="initial" background_position="top_left" background_repeat="repeat" custom_padding="0|0px|27px|0px|false|false"][et_pb_column type="4_4″ _builder_version="3.0.47″ parallax="off" parallax_method="on"][et_pb_text admin_label="Text" _builder_version="3.19.3″ background_size="initial" background_position="top_left" background_repeat="repeat"]
There are several Plastic Surgeons in Seattle who perform an array of cosmetic and reconstructive procedures. So, with all of the information available to you, what is the best way to go about researching and picking a surgeon for your first or next procedure? Luckily, there are many resources available to prospective patients and the recommendation is to take a multifaceted approach to your research in order to find the surgeon who is the best fit for your desired outcome, budget and personal comfort.
Things to Consider when Searching "Plastic Surgery Seattle"
Most people begin their search online. Although a plethora of surgeon's websites will populate as soon as you hit the search button for a "plastic surgeons seattle" search query, this may not be the best place to begin. Take a step back and consider what you are seeking:
What type of treatment are you interested in? If you aren't sure of the answer to this question, you should begin your search for a consultation. This will provide you with the opportunity to meet with the surgeon to discuss your desired end results, then they will provide you with a treatment recommendation.
What is your ideal location to receive treatment? The Greater Seattle Area covers a large geographic scope. Consider if location is important to you, being aware of how you will get to and from your procedure, the convenience of pre and post surgery appointments, etc. This may help you narrow down your search to surgeons within a specific neighborhood.
Once you answer the questions above, you are ready to continue your online search. Start to review websites and compile a list of surgeons of interest, making note of their consultation policies. Also, be sure to review the surgeon's credentials. Are they board certified? Do they list a speciality? If you cannot find these answers on their website, make a quick phone call to learn more.
Who is Your Friend's Favorite Plastic Surgeon?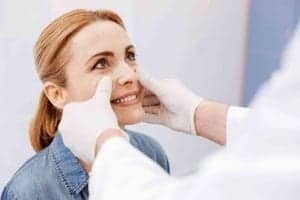 Referrals are historically the most trusted manner by which consumers make purchasing decisions and it is no different when shopping for a plastic surgeon. Although plastic surgery isn't always the first topic brought up when you sit down with a friend for coffee, it is becoming more mainstream by the minute. So, if you have a friend who you know has experience with cosmetic treatments and you feel comfortable with, it is worth asking discretely for their recommendation. This is also true for friends who haven't had a procedure themselves, but know someone who has. It is always worth asking, if you feel comfortable doing so.
Real Patient's Results Speak Volumes
Once you have a list of practices or Doctors that you would like to research, head on over to RealSelf.com. Real Self is basically a search engine for cosmetic treatments. You can search by location, treatment, or a plastic surgeon's name. Additionally, you can view testimonials and in some cases, before and after photos, submitted by real patients. Also be sure to check the practice's website, google reviews and social media for patient reviews and before and after photos.
A Plastic Surgery Consultation is like an Interview
Once you have compiled and narrowed down your list of plastic surgeons of interest, it is time to call or email to schedule a consultation. It can be advantageous to schedule consultations with a couple different offices. Regardless of how many consultations you move forward with, it's important to compile a list of questions before you go in. Chances are your provider will cover most of the answers, but it's always wise to be prepared so you don't forget to ask some questions.
Remember, the consultation is like an interview. Not only are you there to learn more about potential procedures, but you are also getting to know the doctor and gauging your comfort level with the practice as a whole. Make mental notes from you initial communication when scheduling the consultation, all the way through checkout, on how the practice and provide make you feel. Upon consulting with the right doctor for you, you should feel understood, educated and cared for by the doctor and his or her entire staff.
[/et_pb_text][et_pb_button button_url="/consultation-request" button_text="REQUEST A CONSULTATION" button_alignment="left" _builder_version="3.19.3″ custom_button="on" button_text_size="14px" button_text_color="#ffffff" button_bg_color="#54acb4″ button_border_width="16px" button_border_color="#54acb4″ button_border_radius="100px" button_letter_spacing="1px" button_font="Montserrat|500|||||||" button_icon_color="#54acb4″ background_layout="dark" custom_margin="|||" custom_padding="|||" saved_tabs="all" locked="off" button_text_size__hover_enabled="off" button_one_text_size__hover_enabled="off" button_two_text_size__hover_enabled="off" button_text_color__hover_enabled="off" button_one_text_color__hover_enabled="off" button_two_text_color__hover_enabled="off" button_border_width__hover_enabled="off" button_one_border_width__hover_enabled="off" button_two_border_width__hover_enabled="off" button_border_color__hover_enabled="off" button_one_border_color__hover_enabled="off" button_two_border_color__hover_enabled="off" button_border_radius__hover_enabled="off" button_one_border_radius__hover_enabled="off" button_two_border_radius__hover_enabled="off" button_letter_spacing__hover_enabled="off" button_one_letter_spacing__hover_enabled="off" button_two_letter_spacing__hover_enabled="off" button_bg_color__hover_enabled="off" button_one_bg_color__hover_enabled="off" button_two_bg_color__hover_enabled="off" global_module="6519″][/et_pb_button][/et_pb_column][/et_pb_row][/et_pb_section]