Why can't we have smooth, glowing skin year round? As fall and winter approach and our skin gets drier, fine lines & wrinkles start to become more noticeable. Luckily, there are several treatment options to help reduce or even eliminate these unwanted signs of aging, for more youthful skin.
Chemical Peel
This treatment is used to improve skin texture and tone, minimize acne or actinic keratoses, and result in overall clearer, younger looking skin. There are varying levels of chemical peels, each targeting a different depth of the skin to achieve different results.  The best results from chemical peels are achieved by a series of treatments and are paired with a medical grade product regimen, so be sure to consult with your Master Aesthetician to determine the right treatment option for you.
Botox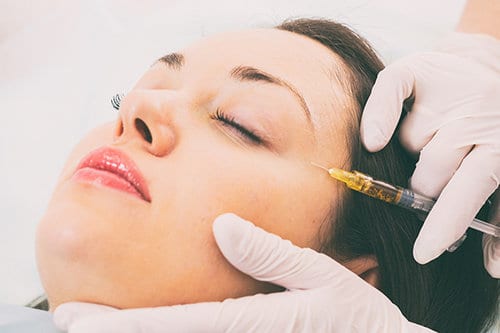 This medical treatment involves injections of small amounts of a highly purified, concentrated protein into very specific parts of facial muscles, resulting in a softer, relaxed and refreshed appearance. Botox helps to diminish fine lines and wrinkles, from years of facial animation between the eyebrows, crowsfeet, on the forehead and around the mouth. Dr. McIntosh is a Board Certified Plastic Surgeon and will recommend the best treatment plan for you, based on your aesthetic goals.
Facial Fillers
Facial fillers work very well with Botox, but the two accomplish very different results. Botox weakens specific parts of specific muscles to decrease that muscle's ability to move and therefore prevents wrinkles from being created on the skin's surface. Fillers add volume to the face to help features appear more youthful, from plumping the lips to recontouring the cheeks.
There are many kinds of facial fillers on the market, and each are designed to treat different areas. Dr. McIntosh will listen to your concerns and goals, to help determine the best option for you. In our office, we use the Juvederm line of facial fillers, which are made of hyaluronic acid, a naturally occurring substance created by the human body. Therefore, the results from your Juvederm and Juvederm Voluma treatments are extremely natural looking.