Winter weather is hard on our skin. The hot dry air indoors and icy outdoor air can rapidly dry out our skin, making it look as dull and dreary as the winter days themselves. Many women don't realize that winter is the time to take extra care of their skin, keeping it hydrated and toned so that when bright weather comes again, their skin is as radiant and glowing as if the summer sun never left at all.
But what sort of winter treatments can combat dull, dry, winter skin? We have several very affordable, easy ways to keep your face healthy and vibrant.
Facials and Skin Treatments:
One of the best and most relaxing ways to improve or banish mid-winter wrinkles, dryness, and puffiness is with one of our medical facials. We have many options for medi-spa treatments that are one of the first and most popular choices among our young clients, as well as deeper and more rejuvenating treatments for mature ladies. But not just ladies – we offer special skin treatments for men as well. These treatments are relaxing, rejuvenating, and very rewarding for your skin! Here's a peek at some of our favorites:
MEDI-SPA FACIAL OR GENTLEMAN'S SKINCARE TREATMENT
This customized treatment includes a variety of the latest technology in machines and skincare catered to your individual skin type and concerns. European facial massage is included. Leave with radiant skin!
Allow 75 minutes—$85
ANTI-AGING TREATMENT
This age-defying facial treatment is designed to counteract those subtle signs of aging, such as wrinkles and fine lines. Using a double exfoliation process, deep hydration, and stimulation of underlying tissues, we are able to tighten and tone the facial muscles while smoothing the skin.
Allow 90 minutes—$125
ULTRASONIC AMPULE INFUSION
Ampules of high density nutrients are penetrated into the skin, so tiny that they are invisible and able to go deeper into your skin than any other substance. Ultrasonic wands and sound vibrations help to press these beneficial molecules into your skin for healing, skin rejuvenation, hydration and to slow the aging process. A perfect, relaxing add-on to any facial treatment.
Available in: Hyaluronic Acid, Collagen, Borage Oil, Anti-Couperose (redness) and Cellular
Allow 15 minutes—$30
PUMPKIN POLISH
Loaded with age-defying peptides and powerful enzymes extracted from pumpkin, pomegranate and mango, this is a treatment that provides wonderful benefits for every skin type. The gentle action of glycolic and lactic acids gives our spa-clients the perfect introduction to chemicals — but with no downtime and instantly soft, smooth, radiant skin!
Allow 60 minutes—$95
Microcurrent 6-Week Series
Our microcurrent treatment is a 6-week series that uses low levels of electrical currents that mirror the bodies own energy to restore vibrancy and elasticity to the skin. This non-invasive treatment has been successfully used to reduce signs of aging such as fine lines, wrinkles, and loosening skin. The treatment tones and tightens the facial muscles by stimulating ATP by 500%. This energy burst jumpstarts the production of collagen and elastin, providing a natural, gentle facelift.
Allow 45 minutes for initial sessions
Weeks 1-4 (two sessions per week) + Weeks 5-6 (one session per week)—$850 total
Monthly Maintenance (allow 60 minutes)—$95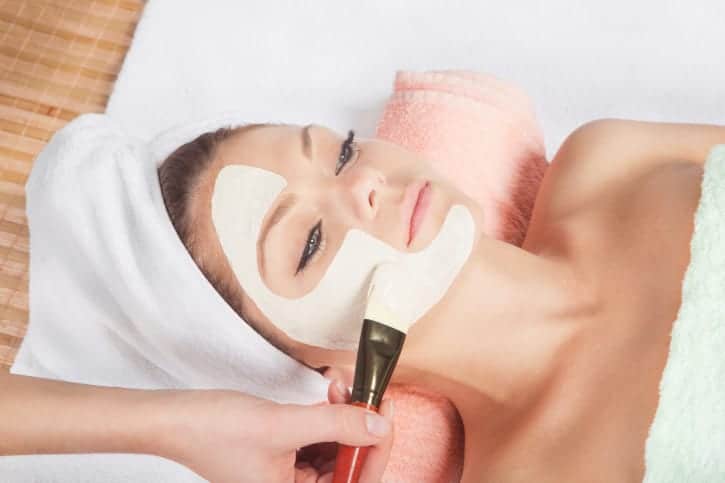 Chemical Peel
Chemical peels have been a favorite way for Dr. McIntosh's patients to rejuvenate their skin that takes facial treatments a step further than skin toning facials. A chemical peel is able to remove fine lines and greatly diminish wrinkles, taking years off your face. It can also help those struggling with pigment irregularities and acne scarring.
Chemical peels use a practice called chemoexfoliation to remove the dead, unhealthy, or discolored surface of the skin. This allows new, young skin to begin growing. Within 6 weeks, our patients have bid farewell to winter skin and said hello to the bright, healthy skin of spring.
We have a variety of chemical peels available that will be tailored to your needs and preferences. Contact our office to schedule a consultation with Dr. McIntosh and discuss your options with this incredibly skin-rejuvenating procedure.
Dermaroller Treatment
Dermarolling is a type of dermabrasion that can help increase the collagen in your skin. This helps to soften your skin, diminishing irregularities and helping your face become more resilient to the effects of aging and gravity. This is one of our best ways to keep skin looking young and fresh, and one of the most popular with our mature clients.
Banish your winter depression by scheduling an appointment to make yourself more radiant and full of health and life. What better way to beat the winter blues than by looking like you just stepped out of summer?